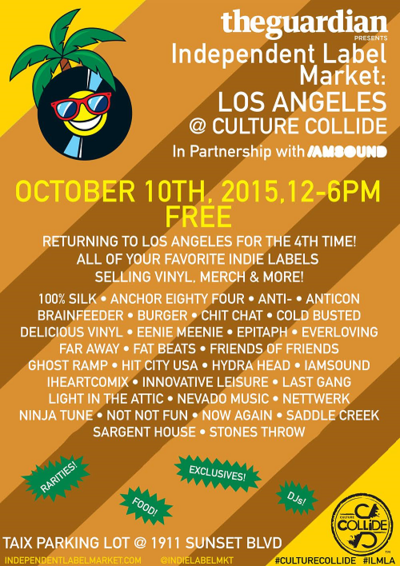 Saturday October 10th, Culture Collide will play host to a massive International record fair in cooperation with Independent Label Market featuring over 20 record labels including 100% Silk, Anchor Eighty Four, Anticon, Burger, Cold Busted, Delicious Vinyl, Everloving, Friends of Friends, Hit City USA, IAMSOUND, Iheartcomix, Innovative Leisure, Last Gang Records, Ninja Tune, Not Not Fun, Now Again, Stones Throw, Saddle Creek, Sargent House, Light In The Attic and more.
Taking place in the LAIX Parking Lot, 1911 Sunset Boulevard labels will be selling exclusive new releases along with rare and sought after catalogue items.
Since launching on Berwick St in May 2011, Independent Label Market has brought together the founders of over 180 of the World's greatest independent record labels on both sides of the Atlantic to sell their fresh vinyl produce directly to the public at that traditional goods exchange – a market stall.
As the music industry embraces mp3s and a more digital strategy, Independent Label Market is proving to be a valuable reminder of how music retail can be a social affair; people hanging out together as a community and buying records.