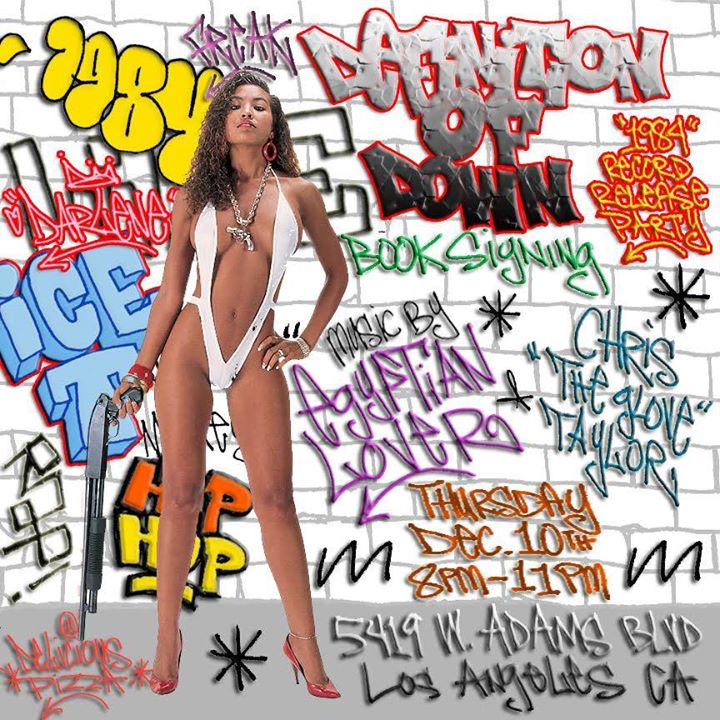 Delicious Vinyl and Over The Edge Books present:
"Definition of Down" book signing with Darlene Ortiz.
"Darlene Ortiz is widely known as the first cover girl of rap. Her poses for such seminal Ice T albums as Rhyme Pays and Power made her a Hip Hop icon. She also starred in multiple music videos and modeled in dozens of magazines. She co-hosts a radio show with comedian Corey Holcomb that boasts thousand of listeners. Ortiz is a fitness instructor, songwriter and can claim acting on her resume, starring in a scene with Denzel Washington in the film Ricochet.
Heidi Siegmund Cuda is an Emmy Award winning producer and the author of The Ice Opinion with Ice T, the first book of rap. She also wrote Got Your Back with Tupac's bodyguard Frank Alexander; Sublime's Brad Nowell: Crazy Fool (Portrait of a Punk); and Warped Book: Tales of Freedom and Psychotic Ambition, about the Vans Warped Tour. Cuda is a former investigative producer for Fox 11 News and former music critic and columnist for the Los Angeles Times. She now writes screenplays."
______________________
Music by:
– Egyptian Lover "1984″ Record Release
– Chris "The Glove" Taylor
______________________
deliciousvinyl.com
deliciouspizza.com
overtheedgebooks.com
_____________________
Flyer by: @streetboi @freakcityla